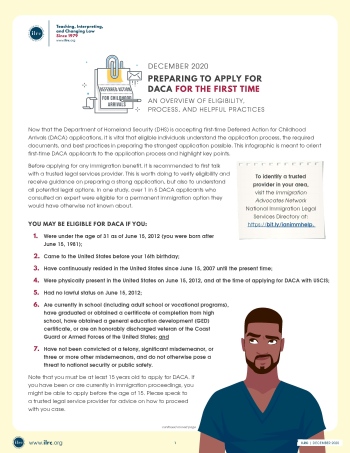 As new applicants begin to set their sights on initial DACA requests, there are several questions worth asking and steps worth taking to prepare productively. This guide is designed to walk community members through eligibility and process for submitting an initial application for deferred action and employment authorization. For information on submitting a renewal DACA application, please visit our full application deep dive video here.
 Additional partner tools: 
A Note on Processing times: How long it takes for a decision to be made on your case after receiving your initial Receipt Notice will vary depending on the location of the office processing your application and if more information is needed to complete your application. Per the USCIS website, DACA cases can take anywhere from 6-9 months to be processed, but this might change. In order to track the process and your case status, it will be helpful to create a my.USCIS.gov account. You can also call the USCIS Customer Service line or check the online case status portal at https://uscis.gov/casestatus/ and provide the Receipt Number provided on the receipt notice to inquire about the status of your case.
Una Nota sobre los tiempos de procesamiento: Cuánto tiempo se tarda en tomar una decisión sobre su caso después de haber recibido su notificación de recibo inicial variará dependiendo de la ubicación de la oficina que esta procesando su solicitud y si se necesita más información para completar su solicitud. Según el sitio web de la oficina de USCIS, los casos de DACA pueden tardar entre 6 y 9 meses en procesarse, pero esto podría cambiar. Con el fin de rastrear el proceso y el estatus de su caso, seria de gran ayuda crear una cuenta en; my.USCIS.gov  También usted puede llamar a la línea de Servicio al Cliente de la oficina de  USCIS o verificar el portal de estatus de casos en línea en https://uscis.gov/casestatus/ y proveer  el Número de Recibo proporcionado en la carta de aviso de recibo para preguntar sobre el estatus de su caso.