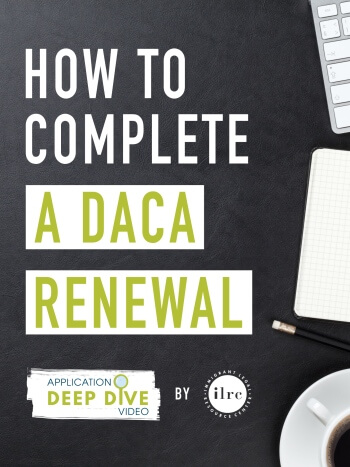 This video details how to complete a DACA renewal application packet by walking through the various forms' questions to highlight what they mean and focus on areas worth paying close attention to. As always, we highly encourage applicants to seek a consultation with a trusted legal service provider before submitting their packets. Namely this is so applicants can ensure they are submitting their information as accurately as possible and addressing the dimensions of their specific case that may or may not allow them to be eligible for other forms of immigration relief. In this one-hour walkthrough video, the ILRC's Legal Outreach Coordinator, Abraham Bedoy, dives deep into each form required for a renewal so those taking on their own application packet (forms: I-821D, I-765, I-765WS, G-1145) can follow along to double-check their entries. 
**I-765WS UPDATE** 
It is good to include detailed information about your expenses/costs in the explanation portion of the form so as to make it as clear as possible that it is vital to be granted continued employment authorization. While you do not have to itemize expenses or share more information than is necessary, the core of the explanation should point to the needs you have in sustaining yourself and caring for yourself and/or loved ones. 
As stated in the video, if applicants have any questions pertaining to their specific case, they should connect with a trusted legal service provider (Find one in your area: https://www.bit.ly/ianimmhelp). For more tools and resources, head to our main DACA page at https://www.ilrc.org/daca. 
Other application tools for DACA renewals: