Citizenship and Naturalization
DACA
Family-Based
Immigrant Youth
Removal Defense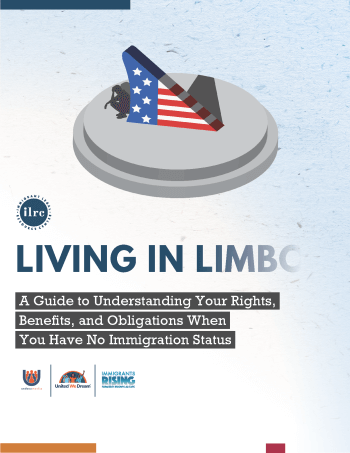 Every year, millions of people wait for Congress to advance a solution that would provide stability for undocumented persons and their families. The numbers left waiting and worrying without a pathway to citizenship, protection from deportation, or the ability to work under the Trump Administration has only increased with the limitations on the Deferred Action for Childhood Arrivals (DACA) program and the termination of Temporary Protected Status (TPS) for certain countries.
Without a solution, many are left with questions about how they can survive, resist, and thrive as an undocumented person in the United States. If you are undocumented, this guide will help you answer some of those questions by informing you of your continuing rights, benefits, and obligations while you wait for federal legislation.
Specifically, this guide will provide you with an overview of existing immigration options; ways to earn a living; federal and state benefits and obligations; and ways to protect yourself from deportation.
Beyond that, this guide serves as reminder that you are not alone, that society relies on your participation and contributions to our communities, and that together we can fight against anti-immigrant policies and towards a permanent federal legislation that provides a meaningful and humane solution for all of our immigrant communities.