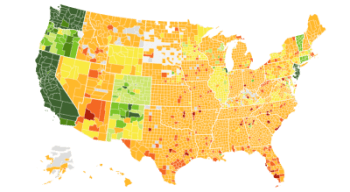 National Map of Local Entanglement with ICE
The federal government has built its immigration enforcement regime to depend on the time and resources of local law enforcement. As a result, local agencies are shoring up some of the most highly-funded, destructive law enforcement programs in our nation's history. The Department of Homeland Security has built a massive infrastructure to exploit local resources in the name of detaining and deporting immigrants. And the Trump administration has put that machinery to use in carrying out the most extreme and inhumane anti-immigrant agenda in decades.
But state and local governments across the country have created their own check on federal demands to coopt local law enforcement: sanctuary policies. Sanctuary policies take many forms, but broadly act to limit the participation of local agencies in helping with federal immigration enforcement. This map looks at what those policies do, where they are, and just as importantly, where they aren't. Jurisdictions that have not enacted sanctuary policies are providing unnecessary, sometimes illegal, assistance to ICE.
The map represents the degree to which local policies limit assistance in immigration enforcement, based on FOIA data we received from ICE, as well as our own expertise in local and state laws and policies relating to immigration enforcement. We update the map regularly as the laws shift and grow.

More Explanation of Legend

(0 – 1) The red and dark red jurisdictions spend substantial local time and resources on civil immigration enforcement, whether under a 287(g) agreement, by contracting with ICE to detain immigrants, or both.
(2) The orange jurisdictions generally do not have formal MOUs or contracts with ICE, but nonetheless are willing to hold immigrants on detainers, provide extensive information about individuals in county custody to ICE, and generally grant requests that ICE makes of them. We are concerned that most of these counties may be regularly violating the Fourth Amendment by detaining immigrants without probable cause or legal authority.
(3) The yellow counties, by and large, offer more limited assistance to ICE, and are largely defined by their rejection of ICE detainers. Because multiple federal courts have found ICE detainers to be illegal, these jurisdictions will not hold anyone for transfer to ICE, although they are willing to provide ICE notice of when someone in custody will be released and other information or assistance.
(4 - 5) The green and light green counties go further in disentangling the local criminal legal system from immigration enforcement, generally by declining ICE detainers, by limiting ICE's ability to interrogate individuals while in local custody, by refraining from asking about immigration status or place of birth, or by otherwise enacting policies that they will not assist in any civil immigration enforcement.
(6 – 7) The two darkest green jurisdictions have the most comprehensive protections to prevent local resources from going to civil immigration enforcement.
There is no federal legal obligation for local jurisdictions to use their resources to help with immigration enforcement. But historically police and sheriff's departments have often voluntarily assisted ICE, without even considering the legality or ramifications of their actions.
In recent years, following widespread advocacy and federal court rulings that ICE detainers (requests to have an individual held for transfer to deportation proceedings directly from local custody) are unconstitutional, hundreds of counties and cities no longer comply with these requests. And many have gone much further in shielding their local resources from entanglement in immigration enforcement. However, the majority of counties have still not caught on to the legal jeopardy they face by complying with ICE detainers, nor recognized the horrific implications for their immigrant residents.
Local involvement in immigration enforcement makes local agencies the gateway to deportation, co-opts local resources into questionable, racially discriminatory purposes, strips communities of any sense of safety, and undermines the rule of law.
At the ILRC, we have seen tremendous success of sanctuary policies that disentangle local law enforcement from ICE, and we continue to craft, support, and advocate for those initiatives nationwide.
We know that overpoliced, vulnerable populations are better integrated, more secure, and more involved in their communities when local law enforcement agents are not involved in deportations. Their children are less likely to live in fear of losing a parent, mental health is improved, and access to justice is protected, while crime rates continue to fall. Until our federal lawmakers gather the political will to end the tyranny of our detention and deportation machine, the ILRC will continue to advise advocates, law enforcement, and elected officials across the nation on how to enact and improve sanctuary policies to protect our communities.
For press inquiries about this map, ILRC's reports on sanctuary policies, or other ILRC information about immigration enforcement, contact Donna De La Cruz at media@ilrc.org. For more information about accessing the FOIA data underlying the map, contact Magaly Garcia-Kummert at mgarcia@ilrc.org. For assistance in starting a local campaign or joining national efforts, contact Lena Graber at lgraber@ilrc.org.
Additional Resources

For more details about local policies regarding immigration enforcement and analysis of what this map means, see our reports reviewing the nature and expansion of sanctuary policies across the country: Growing the Resistance (2019); The Rise of Sanctuary(2018); and Searching for Sanctuary (2016).