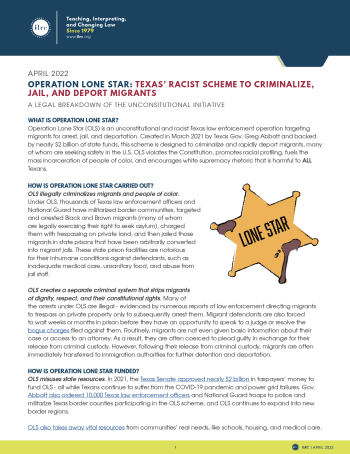 In Texas, Black and Latinx migrants are being harmed by Operation Lone Star- an unconstitutional and racist law enforcement operation that is criminalizing migrants who are seeking safety in the U.S. border. Operation Lone Star is a complex scheme involving multiple law enforcement agencies in the state. This comprehensive resource explains how Operation Lonestar is being implemented and funded, explains why this operation is illegal and unconstitutional, highlights how this scheme expands the carceral and enforcement systems, and how it's harming entire border communities.
___
El Operativo Lone Star: Un Esquema Racista de Texas para Criminalizar, Encarcelar y Deportar a Migrantes

En Texas, los migrantes Negros y Latinxs están siendo atacados por el Operativo Lone Star- un operativo policial racista e inconstitucional que criminaliza a los migrantes que buscan seguridad en la frontera de Estados Unidos. El Operativo Lone Star es un esquema complejo que involucra a varias agencias policiacas del estado. Este recurso completo explica como el Operativo Lone Star está siendo implementado y financiado, explica por qué este operativo es ilegal e inconstitucional, explica como este esquema expande el sistema carcelario y de detención, y como daña a comunidades enteras en la frontera.