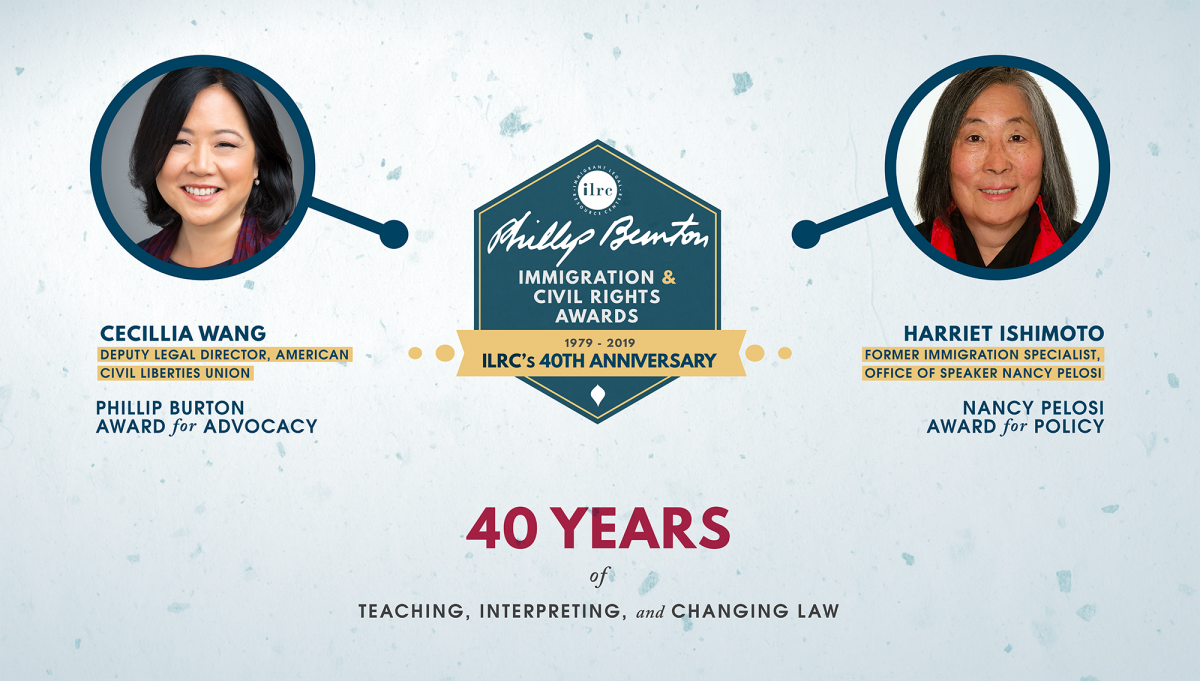 As the Immigrant Legal Resource Center celebrated its 40th anniversary in 2019, the organization was thrilled to recognize that the Phillip Burton Immigration & Civil Rights Awards had also reached a 30-year milestone. On May 9, 2019 we celebrated three decades of honoring influential and important work from partners and leaders in the field of immigrant rights that have fueled the fight forward.
The 2019 dinner also served as a time for us, as a movement, to reflect on the state of immigration issues and the evolving strategies, new thinking, and shifting playing fields in the immigration arena. With bigotry and racism running rampant across the country and fueled by divisive rhetoric from the oval office on down, immigrant rights advocates and allies will be called upon constantly to respond swiftly and identify new avenues of support for our most vulnerable immigrant communities. The Awards not only allowed the ILRC's supporters an opportunity to self-reflect with movement leaders, it also gave us a much-needed moment to acknowledge and lift up the astounding work of truly inspiring and courageous advocates and policymakers in the field.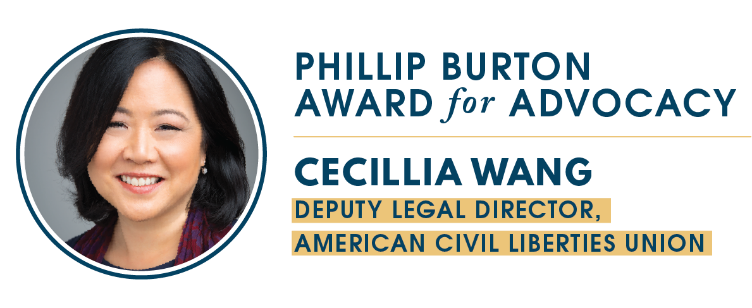 Cecillia Wang is a Deputy Legal Director at the national American Civil Liberties Union (ACLU) and directs the Center for Democracy, which includes the ACLU's work on immigrants' rights, voting rights, and human rights. She is a former director of the ACLU Immigrants' Rights Project and a nationally recognized expert on issues at the intersection of immigration and criminal law. She has taught immigration law courses as an adjunct lecturer in law at Stanford and UC Berkeley. Cecillia is a graduate from Yale Law School and has been an ACLU lawyer since 2004. Cecillia is an experienced trial and appellate lawyer with two decades of experience in civil rights and criminal defense. Among her notable ACLU cases is a winning argument before the en banc U.S. Court of Appeals for the Fourth Circuit in a challenge to President Trump's proclamation barring entry of visitors and immigrants from predominantly Muslim countries.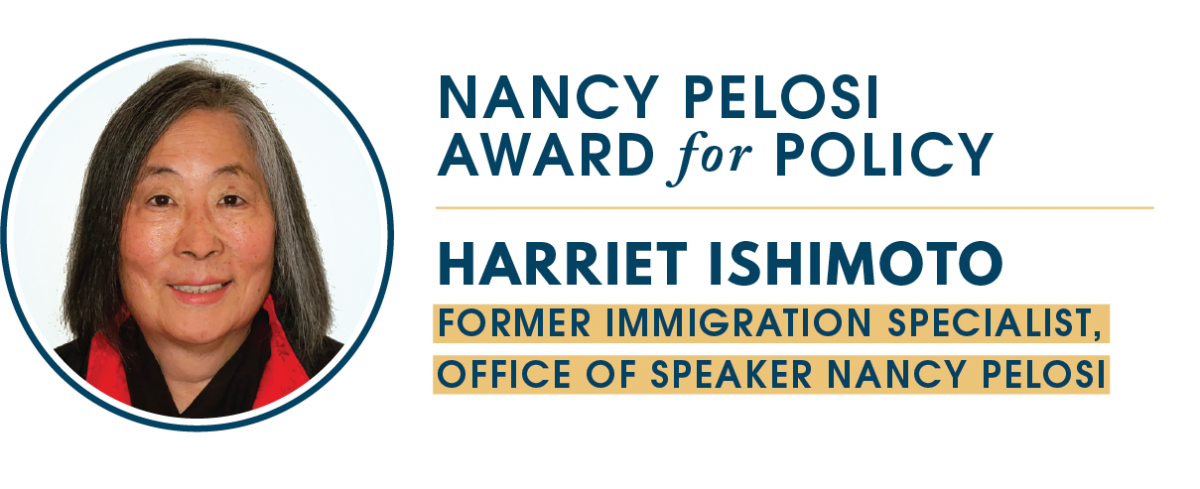 Harriet Ishimoto is retired from a 36-year career with the federal government. Harriet worked as an Immigration Specialist for Barbara Boxer, a member of Congress and United States Senator from California. She then began her more than 24-year career with Congresswoman Nancy Pelosi, remaining in that role through the Congresswoman's ascendancy as the first woman Speaker of the U.S. House of Representatives. Harriet distinguished herself by working closely with constituents and their lawyers to resolve problems rooted in the complexities of the immigration system. For example, she oversaw responses to headline news like the Democracy Scholar movement, the Mariel and second Vietnamese boat lifts, the breakup of Yugoslavia, or cases involving HIV discrimination. Other times, she worked to expedite urgent visa, passport, or deportation situations for constituents.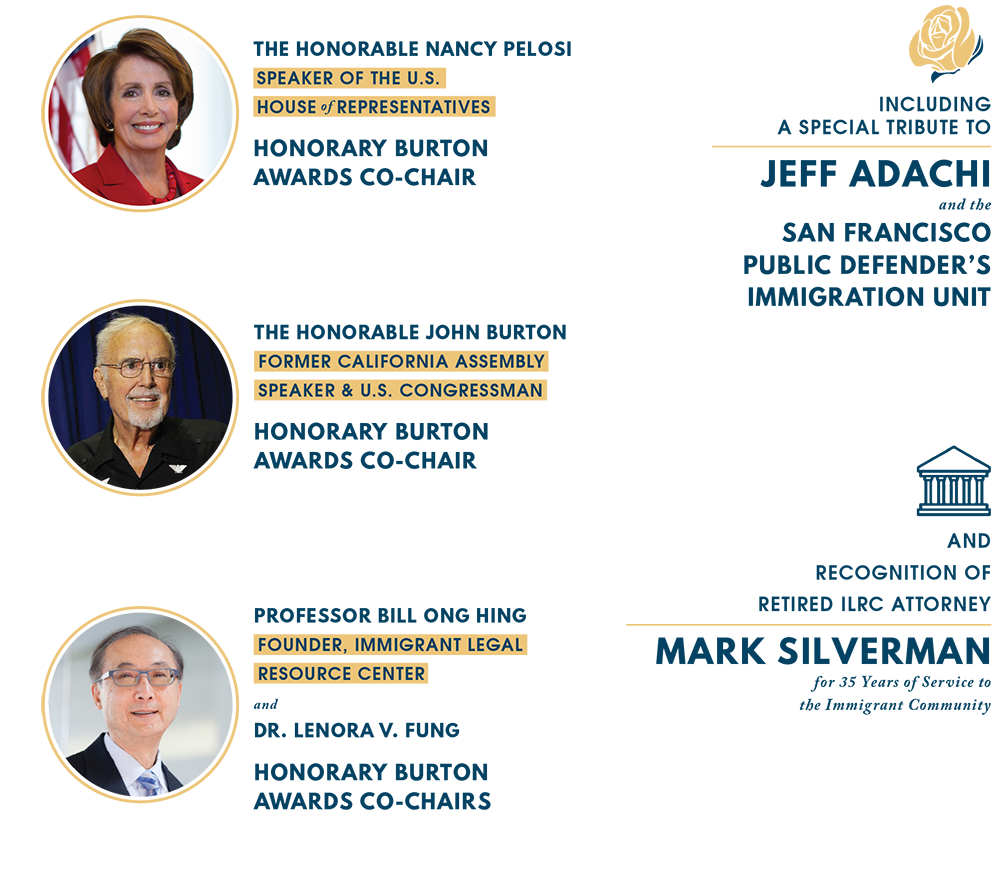 The Immigrant Legal Resource Center (ILRC) was founded when San Francisco-based attorney and law school professor Bill Ong Hing recognized a lack of adequate legal information and resources for community-based organizations serving immigrants. With a local reputation for expertise in immigration law, Bill established a law clinic at Golden Gate University to help connect immigrant clients with representation as well as supply legal advice to immigrant legal service providers. Within a few years, the clinic's influence and reputation grew and became the independent, nonprofit organization we know today.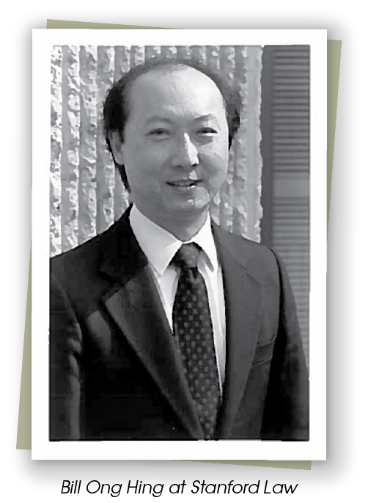 That was 1979—so much has changed in the last 40 years. Today, the ILRC is a national resource center with a broad range of expertise building capacity and comprehension in the field of immigration law. The ILRC works with community groups, attorneys, legal service providers, lawmakers, and advocates to protect and defend the rights of immigrants from coast to coast. From assisting Iranian students during the hostage crisis to drafting and advocating for our nation's most just, inclusive immigration policies, the ILRC believes that no one deserves to be excluded, expelled, detained, or deported based on their immigration status, and affirms that reforms focused on criminal, racial, and economic justice are at the center of the fight for immigrant equity.