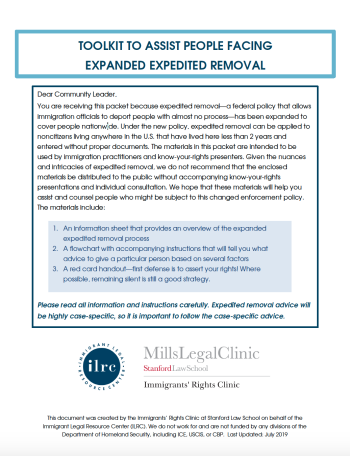 On July 23, 2019, DHS issued a notice, expanding the reach of expedited removal to individuals who have been living in the United States for two years or less, and who live anywhere in the United States. This would allow noncitizens to be deported without an opportunity to gather evidence or to present their case to a judge. On August 6, 2019, the American Immigration Council, the American Civil Liberties Union, and the law firm of Simpson Thatcher & Bartlett LLP filed suit challenging the legality of this expansion, Make the Road New York v. McAleenan, Case 1:19-cv-02369. On September 27, 2019, the court granted a preliminary injunction in this case, which blocks the expansion of expedited removal from taking effect while the court decides the case.
Thus, the expedited removal process continues to apply only to those within 100 miles from the border and who have been in the U.S. for 14 days or less, and to those who arrive by sea. Outside of this limited context, immigration officers cannot process someone for expedited removal and most noncitizens will have an opportunity to present their case in front of an immigration judge.  Based on the injunction, noncitizens within the United States may exercise their right to remain silent, to not open their door without a warrant, and to ask to see a lawyer without worry that expedited removal could apply to them.
The Immigrants' Rights Clinic at Stanford Law School in partnership with the Immigrant Legal Resource Center created the attached toolkit to help advocates provide advice should the expansion of expedited removal take effect.