DACA
Family-Based
Immigrant Youth
Public Charge
U Visa/T Visa/VAWA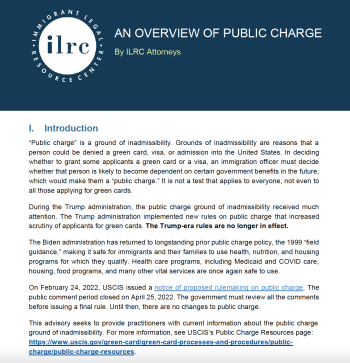 This advisory provides practitioners with current information about the public charge ground of inadmissibility, including addressing what is public charge, who does it apply to, how is public charge evaluated, and could being a public charge make someone deportable.
During the Trump administration, the public charge ground of inadmissibility received much attention. The Trump administration implemented new rules on public charge that increased scrutiny of applicants for green cards. The Trump-era rules are no longer in effect.
On September 9, 2022, DHS published a new rule on public charge that is set to take effect on December 23, 2022. If litigation is filed against the rule, the effective date may change. Please check the ILRC's public charge page at https://www.ilrc.org/public-charge for updates. 
The new rule codifies longstanding guidance on public charge which is summarized in this practice advisory, and thus the information in this advisory continues to apply including helpful background on when the public charge ground of inadmissibility comes into play and what the statute requires. We will be updating this resource soon to reflect publication of the new rule and any new guidance USCIS issues, which we expect in late 2022 unless implementation is delayed.