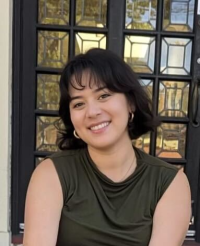 Education Team Operations Coordinator
Bianca joined the ILRC in August 2023. She provides operational support for the ILRC's Education team and coordinates the planning of in-person and online webinars and seminars. She brings ample experience in event-planning and operational systems development to the team.
Prior to working at ILRC, Bianca worked at a climate justice and resiliency group called the People's Climate Innovation Center where she provided program coordination for youth climate leaders of color programs and scholarship support for future generations of climate leaders and activists.
Bianca is a proud Gator, graduating from San Francisco State University with a Bachelor of Arts in the Humanities. Being a proud Chicana and coming from a family of Mexican immigrants, she has made it point to advocate for the protection of immigrant rights and support the efforts to dismantle unjust policies that uphold the oppressive nation-state border. Outside of ILRC, she designs jewelry and co-hosts a monthly pop-up art market in Oakland, creating economic opportunities for up-and-coming artists and local creative entrepreneurs.