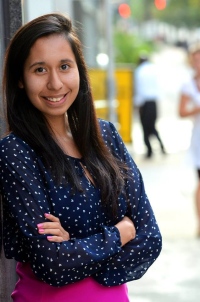 Senior Texas Strategist
Carolina is the Senior Texas Campaign Strategist at the Immigrant Legal Resource Center. In her role, she helps build organizing and advocacy capacity to fight back the criminalization, incarceration, and deportation of immigrant communities in Texas. Carolina has worked in immigrant justice for the last 12 years. 
Previously, she led United We Dream's deportation defense program, which empowered communities to defend their rights, stop unjust deportations, and challenge ongoing collaboration between local police and Immigration Customs Enforcement (ICE). Carolina has led advocacy campaigns for more than 200 families facing deportation. Since 2015, she has anchored multiple local campaigns to end police-ICE contracts and to reduce over policing and discriminatory arrests across Texas. 
Carolina has co-authored Deportation Defense: A Guide for Members of Congress and Other Elected Officials (2014) and Ending Local Collaboration with ICE (2015).
Carolina has a B.A. in Communications (2012) and a Master's in Public Administration (2019) from the University of Texas at San Antonio. She is fluent in Spanish.