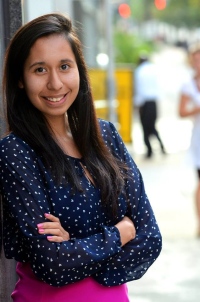 Senior Texas Campaign Strategist
Carolina is the Senior Texas Campaign Strategist at the Immigrant Legal Resource Center. She supports local Texas groups combat the ongoing collaboration between federal immigration authorities and local law enforcement. She has worked to advance immigrant youth rights for the past nine years and led deportation defense work for five years at a national and local level.
Prior to joining ILRC, Carolina served as the Program Coordinator for the UTSA Center for Civic Engagement, where she increased the civic scholarship and meaningful community involvement for the entire UTSA community. She also oversaw all communications for the Community Services division at the university.
From 2012 to 2016 Carolina led United We Dream's Deportation Defense Program. This program trained and empowered local communities to defend their rights, stop unjust deportations, and challenged ongoing collaboration between local police and Immigration Customs Enforcement (ICE). Under Carolina's leadership, the program helped more than 500 families facing deportation, and held four congressional briefings in both the U.S House of Representatives and U.S. Senate to bring awareness of the deportation problem in immigrant communities.
In 2015, she helped establish the first national and volunteer-led hotline to track raids, checkpoints and other enforcement actions in major immigrant communities, while providing callers with Know Your Rights and legal services information. In the same year, she initiated the strategy and campaign plan to end the 287(g) agreement between the Harris County Jail and ICE.
Carolina has co-authored Deportation Defense: A Guide for Members of Congress and Other Elected Officials (2014) and Ending Local Collaboration with ICE (2015).
In 2012, Carolina graduated from the University of Texas-San Antonio with a B.A. in Communications. She also completed a master's in public administration program at UTSA in 2019. She is fluent in Spanish.