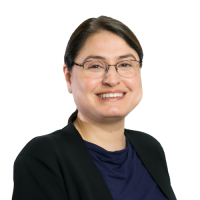 Director of Leadership Giving
Cynthia Tirado Housel joined the ILRC as the Director of Leadership Giving in March 2017. She focuses on developing and leading a comprehensive major gifts program. She works closely with board members, volunteers, and staff leadership to foster relationships with current donors as well as to identify and cultivate donor prospects. Cynthia has over twenty years of fundraising experience, including work on major gifts, capital campaigns, special events, annual funds, grant writing, and corporate partnerships.
Previously, Cynthia worked at Golden Gate University as the Major Gifts Officer for the Schools of Law, Business, and Tax and Accounting. She has also served as the Campaign Manager for the California Academy of Sciences, Financial Development Director for the Chinatown YMCA, and Major Gifts Officer, West Coast for A Better Chance.
Cynthia is the proud child of immigrant parents who settled in Los Angeles. She is conversant in Spanish. She holds a B.A. in Organizational Leadership from Arizona State University. She lives on Treasure Island with her husband and indifferent cat. When Cynthia is not working, she enjoys eating out, watching old films, and celebrating the triumphs of her favorite sports teams.