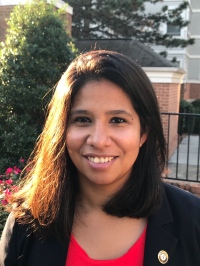 Policy Attorney and Strategist
Elizabeth Taufa is a policy attorney and strategist based in Washington, D.C.  Her work is focused on U.S. Citizenship and Immigration advocacy, particularly naturalization and policies related to equal access to immigration benefits. 
Prior to joining ILRC, Elizabeth was a senior attorney with the American Bar Association's Commission on Immigration managing their detention information line. She began her legal career representing children in removal proceedings at Catholic Charities of the Archdiocese of Boston and previously worked as an attorney advisor in the Office of Legal Access Programs at the Executive Office for Immigration Review.  She is a native of Winchester, Virginia and holds a bachelor's degree from the State University of New York at Buffalo and a law degree from Northeastern University School of Law where she completed internships with the ABA's Immigration Justice Project in San Diego, Greater Boston Legal Services, and the Office of Immigration Litigation. She also volunteered with the International Refugee Assistance Project (IRAP).