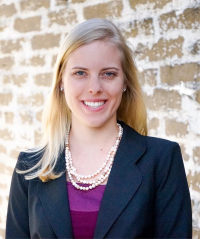 Texas Regional Organizer
Katy joined the ILRC in 2022 as the Texas Regional Organizer. In her role, she collaborates with ILRC partners to fight for local policies that decrease the criminalization, incarceration, and deportation of immigrant communities in Texas and increase the social services available to them. 
Previously, Katy advocated against immigration detention at the American Immigration Council, through the Dilley Pro Bono Project and the Immigration Justice Campaign. Katy has also organized in Texas as a member of the SA Stands immigration coalition since 2019, including participating in a successful campaign for an Immigrant Legal Defense Fund in Bexar County. Katy started her immigrant justice work as a full-time volunteer for No More Deaths on the U.S.-Mexico border in 2012. 
Katy co-authored The Legacy of Racism within the U.S. Border Patrol. She has a B.A. in Political Science and Spanish (2012) from the University of Notre Dame and a Master's in International Policy and Development with a concentration in migration (2017) from the Middlebury Institute of International Studies. She speaks Spanish and is based in Houston.