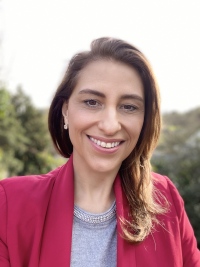 Director of New Americans Campaign
Lucia joined ILRC in 2021 as Director of the New Americans Campaign (NAC). The NAC is a national collaborative committed to increasing the number of lawful permanent residents who naturalize in the United States. Before joining the ILRC, Lucia worked as Director of Immigration and Social Services at Canal Alliance. She oversaw the immigration legal program and the social services department, offered legal representation, and advocated for policies advancing immigrants in Marin County, CA. 
Lucia was born and raised in Venezuela, where she attended law school and was a member of the Venezuelan Foreign Service before moving to Madrid, Spain, in 2005. While living in Europe, Lucia worked on human rights and immigration policy issues in an international organization, enhancing cooperation between Latin America, Spain, and Portugal.  In 2007 Lucia moved to San Francisco to be with her husband. She started her professional journey in the US working in the non-profit sector. She later ventured into the corporate world as a compliance consultant in the financial industry before working on immigration law and non-profit management. 
Lucia is a member of the California Bar and has a Master of Laws Degree from the University of California Law San Francisco and a master's degree in International Law and Relations from the University Complutense of Madrid. In 2022, Lucia was elected a Trustee with the San Rafael City Schools Board of Education in San Rafael, CA. 
She is bilingual in English and Spanish and is based in the San Francisco office.