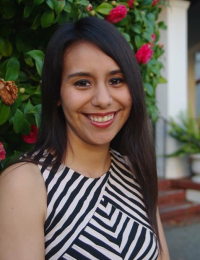 Administrative Assistant
Magaly García joined the ILRC as Administrative Assistant in October 2017. She is responsible for Salesforce administration as well as providing administrative support to various programs at the ILRC.
Prior to working at the IRLC she worked directly with immigrant communities at the Central American Resource Center (CARECEN) DC and International Institute of the Bay Area (IIBA) Redwood City. She has helped hundreds of people fill out their green card renewals and naturalization applications in the short time she's been part of the immigration legal services world. Magaly is a proud Gael, graduating from Saint Mary's College of California with a B.S. in Psychology.
Being a daughter of Mexican immigrants she has always been passionate about advocating for immigrant rights and underserved communities. She is a native Spanish speaker. In her free time she enjoys going to concerts, exploring the Bay Area, and spending time with her family.