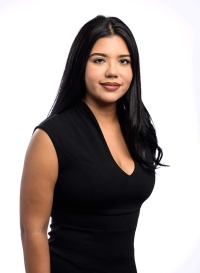 Texas Communications Coordinator
Manuela Gonzalez is a communications coordinator, social media strategist, and artist based in San Antonio, Texas. Having migrated from Caracas, Venezuela at a young age, she has found herself directly impacted by immigration policies and as such works toward diverting narratives around immigrants primarily in her current state. Manuela became an undocumented immigrant at the age of eight and found a pathway to citizenship via DACA by the age of 21.
At present, Manuela is kickstarting her career in the immigration policy and non-profit space by bringing her knowledge and resourcefulness on the ground in Texas to the ILRC. In the past, she has contributed both volunteer and community work within the San Antonio area by managing communications and social media to reach underprivileged families in the city's food deserts, as well as volunteered alongside local worker's coalitions to provide free food to her community.
Manuela holds a B.A. in International Relations from St. Mary's University in San Antonio, Texas, and is fluent in both Spanish and Brazilian Portuguese.