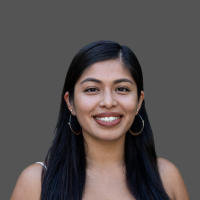 Communications Coordinator
Mayra 'Yare' Recendez is a Communications Coordinator based in Washington, DC. In her role at the Immigrant Legal Resource Center (ILRC), Yare develops and implements communications strategies to advance the ILRC's mission. A TikTok enthusiast, Yare identifies opportunities to inform target audiences through short, informative reels. She works closely with the Communications Team to execute a diverse, engaging digital strategy to grow the ILRC's presence and reach.
With six years of legal advocacy and non-profit experience working with children and indigenous migrant communities, Yare brings a unique background to her communications role. 
Prior to joining the ILRC, Yare was a paralegal with Kids in Need of Defense (KIND), based in an Emergency Intake Shelter (EIS) in El Paso, Texas. She led 'Know Your Rights' presentations and legal screenings, under attorney supervision, for the children detained at EIS. She also served as a case manager for immigrant children at the Emergency Intake Shelter in San Diego, California. In this role, she led investigations for family reunification and used trauma-informed strategies to engage with youth. 
Yare hopes to contribute her wealth of experience in relating complex issues to varied audiences and her commitment to immigrant's rights to the communications field. 
Outside of her work, Yare enjoys reading and writing poetry, attending open mic nights, and dancing salsa and bachata. Yare holds a bachelor's degree in Legal Studies with a concentration in Human Rights from the University of California, Berkeley.