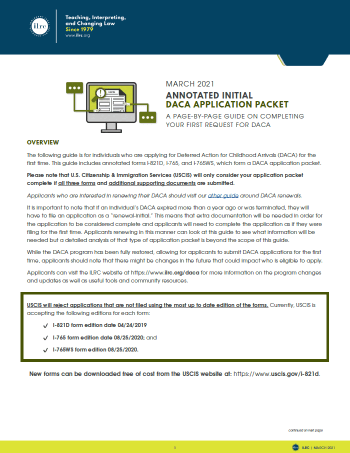 The ILRC's DACA Team has put together a page-by-page form guide for anyone looking to apply for Deferred Action for Childhood Arrivals (DACA) as an initial request. This annotated community resource provides insights into many of the questions asked of recipients when completing the forms needed to make up a complete application packet (forms I-821D, I-765, and I-765WS). As stated in the document, it is important that any individual completing their forms ensures that they are using the most up-to-date forms USCIS offers – otherwise they will reject your submission.
As always, the ILRC strongly recommends working with a trusted legal service provider to compile and submit a request for DACA, especially as an initial applicant. To identify a provider in your area, head to https://bit.ly/ianimmhelp.
For more downloadable DACA tools for initial requests or renewals, visit our DACA Toolbox page, where we house our most updated and timely materials for potential applicants.