Crimes
DACA
Policy Advocacy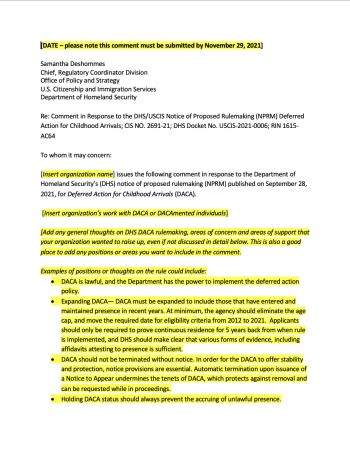 On September 28, 2021, DHS issued a notice of proposed rulemaking for Deferred Action for Childhood Arrivals. The proposed rule seeks to codify DACA and while this presents real opportunities, there are serious problems with the rule in regard to the criminal bars to DACA, in particular the elimination of expungements for DACA purposes. See proposed rule here. 
Comments are due on November 29, 2021. Together we can work to improve this rule. We encourage groups to submit their own comments. The Immigrant Legal Resource Center (ILRC), has created this template comment focused on the criminal bars to DACA, which is provided here for advocates and immigration practitioners to modify and submit. Individuals can go here to submit their comment.
Attached is a form you can download with an easy-to-follow comment template!